http://books.google.se/books/about/Contemporary_Approaches_to_Activity_Theo.html?id=xMXyoAEACAAJ&redir_esc=y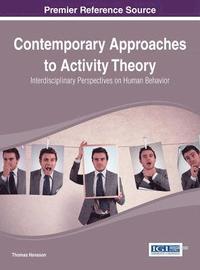 Chapter 18 authored by yours truly.
So, for my first authorial social media meltdown, do you think Twitter, GR, or should I just go with fb for the reach? And what's the best timeframe. Probably wait until it's actually published, right?
I know, I know, it's a textbook, and probably will reside gathering dust in university libraries. But I'm still doing a little squeee (is squeeing permitted in academia? If not, I'm starting a petition).
Apparently it'll also get a cover, sometime in the next week or two. I may in fact squee again when that happens. Or make it a book trailer video, just because that'd be quite hilarious.
ETA: So I just asked Thomas (the editor) and apparently it has a cover (it's just a really embarassingly bad one). And you can buy it from the book stores, but I'm pretty sure even my most devoted fan Bettie is going to balk at this price, because the book stores don't get the institutional discount the publishers give to the schools.
http://www.bokus.com/bok/9781466666030/contemporary-approaches-to-activity-theory/ (Yes, that is 2300 SEK. Which is about $325 USD. I think I should give up this author lark and get into textbook publishing.)