So I didn't forget about these, I just had a busy week :)
Jane (or Mary Jane) Mander wrote several novels in the early part of the 20th century, but she's mostly famous for one: The Story of a New Zealand River (1920) - Jane Mander. On the scale of "famous NZ women writers" she was in my childhood behind only Katherine Mansfield, and Ngaio Marsh, although she's dropped a little in the ranks in the last 30 years.
Story of a New Zealand River is one of the few on the NZ classics list that is out of copyright and therefore available to read/download. Internet Archive has several formats.
The story is about an English woman who is trying to come to terms with living in a pretty rough backwater logging settlement, a fairly common predicament for young women coming to NZ as brides in the late 1800's/early 1900's. And since I apparently am very bad at succinctly summarising novels, here is the Encyclopedia Brittanica version:
"contrasts the life of a cultivated, educated, lonely woman who maintains strict social and moral values in a frontier settlement with that of her uninhibited daughter, who finds employment in Australia and lives with her lover. It was one of the first significant novels to come out of New Zealand."
It's broadly similar to "The Piano" in premise, if very different in execution - but the influence is very easy to see! Mander having actually grown up in that environment, provides a certain authenticity that Campion's Piano doesn't have, however, and although it's not nearly so shocking or dramatic, in the end, I like 'Story' better.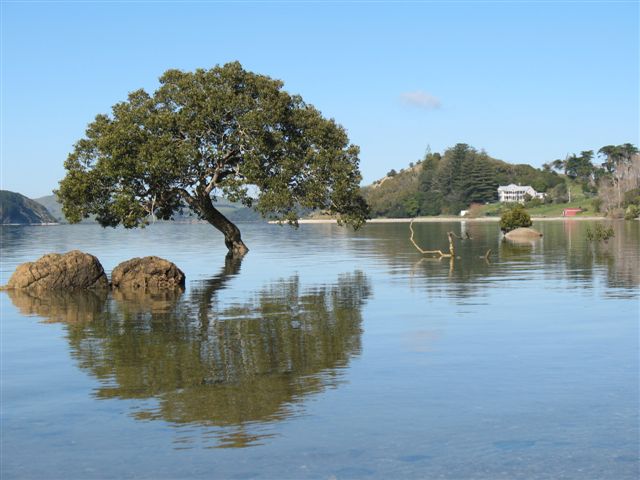 This book in particular, is quite dear to me, the river in the title is the Otamatea, which is the same river I grew up alongside, in fact we grew up some only about 20 miles apart (albeit 70 years apart at the same time). I went to some of the same schools Mander did, and one that she taught at as a student teacher. Quite a good deal of the book is about the Kauri logging industry, something I also grew up around, as my grandfather had been a Kauri woodsman before becoming a farmer.
Above: The Otamatea river, looking south towards the village of Batley. Our farm was a couple more miles down the river, on the other side.
Left: I used to have a photo here of a Kauri log my grandfather helped pull in to the Matakohe Kauri Museum, a very long time ago, but it's gone missing. So here's one he didn't, but it's about the same size :) I used to spend a lot of time up at this museum when I was a kid - our tribal meeting house and family graveyard is almost next door, as is the chapel nearly everyone I knew was married in, christened in, or had funeral services held at.
Kauri are a hardwood tree native to NZ, that grow to enormous size. The trunks can be larger in volume than California Redwoods, although they don't grow as tall. Some of the very largest of these logs are several thousand years old, and felling them was a major industry in the north of New Zealand for several decades. They're semi-protected now. Oh and they produce copious amounts of sap which turns into the most gorgeous amber - amber collecting was another big industry in NZ a hundred years ago. If you click through to the museum you will see some really gorgeous examples - we call it "Kauri Gum".
Jane Mander bio from the Encyclopedia of New Zealand, 1966
Jane Mander bio from the newer Dictionary of New Zealand Biography, 2012 (it's interesting to read both and see the differences)
https://archive.org/details/storyanewzealan00mandgoog The book links again, in case you missed them up there :)
More NZ Classic reading here: http://booklikes.com/apps/reading-lists/245/nz-classics